I was so excited to find a little surprise in the mailbox; my hubby renewed my PEOPLE magazine. It was like Christmas morning! After I put the kids to bed I opened it up, excited to read the latest pop news when I saw this:
Body after Baby?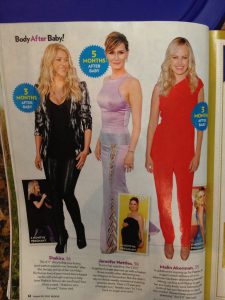 While I'm totally thrilled that Shakira has her perfect abs back 3 months after giving birth (and flaunts them on the cover of SELF magazine), this segment really irks me. Yes it's amazing that celebrities barely gain weight during pregnancy. And then when they do give birth, they hibernate (like Kim Kardashian) and then re-emerge a few months later perfectly thin. But this is not realistic for most of us, and not entirely healthy, especially if you're breastfeeding.
For celebrities who have unlimited funds, sure it's easy to lose the baby weight. Personal trainers, chefs, personal shoppers and baby nurses help the mom's immensely in their plight for perfection. Plus women like Brooke Burke and Giselle Bunchen must have super-genes and just naturally stay lean.
But for the rest of us, this sends a terrible message. Why do mom's have to be uber thin right after we give birth? Why are we as a society focusing on perfection? Why can't mom's take their time slowly to lose the weight? When I saw this page in PEOPLE I immediately felt inadequate…luckily my brain took over!
Let me say first that I am not begrudging these amazing women. I am in awe of my fellow mommies who manage to find time to workout and eat right. It's not easy to find time to meal plan, let alone get cardio in when you are super sleep deprived, and working.
But I also don't understand the need for perfection these days. Super skinny women are worshipped on the cover of glossy magazines. There are mega moguls like Bethenny Frankel who are making millions on "Skinny Girl" cocktails. Becoming a stick figure is booming business, and I am saddened by this incessant need to fit in.
And yes, trust me I feel the pressure too. Everytime I stare in the mirror I see my widened hips after having 2 babies in two and a half years. I see the fuller thighs, and booty that never quits. But this is real life. This is the ultimate struggle for moms, how do we find time for ourselves? To nourish our bodies, and find an hour to exercise and unwind? It's not easy, and takes time to coordinate.
So I googled mommy weight loss plans, wondering how these moms actually live this lifestyle, and I stumbled upon the term "MOMMYREXIA" in the Huffington Post. It appears I'm a couple months late to the party on this, but is it an actual condition? Are women really striving to stay skinny during pregnancy?
I'll admit during my first pregnancy I worked out after I was allowed, (with IVF you have to be super careful of the early fragile pregnancy) and ate minimal sugar. But with the 2nd pregnancy it was impossible to exercise. I was so tired just from the pregnancy and chasing my toddler, I had zero energy for me. I barely gained 20 pounds with Lila, but ballooned to an additional 38 pounds the second go round.
I still have 10 pounds to lose, and tons of toning to get back to pre-baby shape. And I may never lose it. But I won't allow myself to be pressured by what these publications say we should look like. It's not practical, and it's practically impossible to be perfect.
What I am doing is eating better. Working a bit less and making time every weekend to plan healthy meals, and having tons of healthy snacks. I even signed up for an Amazon Prime account to get the shipping deal. I realized I don't have time to run to Whole Foods and Publix every week, so I order my protein powder, supplements, and healthy snacks online. Plus Amazon.com is much cheaper and I can stay on top of diapers now too!
Bottom line, we all have to realize that not everyone can achieve physical fitness perfection. We can eat as healthy as possible, and try to actually schedule time every week for workouts. But most importantly, we need to love ourselves, and accept that as mothers we are doing the best we can for our kids and us. And no PEOPLE Magazine, I'm not still mad at you. But you can feature REAL women every once and a while….that would be cool.