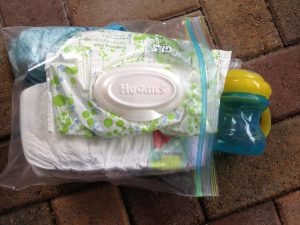 THIS is what fits from my diaper bag into a gallon Ziploc bag. Ummmm, where's the rest go? Tote bag please!
The NFL announced their new "All Clear" Policy for the upcoming 2013-14 football season. In order to provide better safety, and speed up entry for fans, the NFL is allowing only the following bags:
Bags that are clear plastic, vinyl or PVC and do not exceed 12″ x 6″ x 12″. Official NFL team logo clear plastic tote bags will be available for purchase.
OR a one-gallon clear plastic freezer bag (ziploc bag or similar).
Small clutch bags, approximately the size of a hand, with or without a handle or strap can be taken into the stadium with one of the clear plastic bags.
An exception will be made for medically necessary items after proper inspection at a gate designated for this purpose.
Here' is the link to the NFL's website so you can Be Clear On Game Day Safety.
According to Todd Boylan, the Dolphins Senior VP of Operations presenting the new NFL bag policies, "the NFL reviews all stadium safety precautions yearly, but the Boston Marathon bombings were a strong factor in the league wide decision." This policy will be implemented this Saturday, August 24th at Sun Life Stadium, when the Dolphins take on the Tampa Bay Bucs.
So there you go Dol-Fans, your entry into Sun Life stadium will now feel like you are at an airport security line, but you can keep your shoes on. For now. Can you imagine carrying a ziploc bag around all day, and a baby? No hands free, so an awesome idea by the NFL to enable us to purchase the tote bag with straps. You can buy them here for $11.95.
The Miami Dolphins should be commended for taking care of their season ticket holders, they sent each STH two of these clear bags. It can hold more than enough supplies for my two kids, plus the additional bag would be fine for a purse. Note to the designer, shoulder straps would have been a big help though.
Close up of the bags available for purchase, we received 2 because we are season seat holders.
The website has a great FAQ section that covers everything you could ask and more, including "FEMALE FAN FAQ". Here's one of my favorite quotes. "Therefore, you can carry in your pockets keys, makeup, feminine products, comb, phone, wallet." Wait, hold the phone! Feminine products…in my pocket? No thanks. Clearly a man came up with this plan, because he wasn't thinking of the embarrassment of women with tampons in their clear bags. That's going to be fun for all to see. Clutch please!
But what about diaper bags? How much can you really fit in a one-gallon bag? Let's see I would need for a 3 hour game; 5-6 diapers, wipes, sippy cups, a boatload of toddler snacks, a lovey or special toy. As you can see from the top photo, only 6 diapers, wipes, a change of clothes and a tiny cup fit in the gallon Ziploc bag.
Now in their defense, the NFL is allowing one bag per child. Here's their quote: "Diapers can be carried in a clear bag. Each member of a family, including children, would be allowed to carry an approved clear bag and a clutch purse into the stadium. That is quite a bit of storage capacity." But do you really think my 20-month old is really going to carry a bag with diapers? And then I have to carry her, along with 2 ziploc bags? There's no way my 4 year old would carry one either. The Dolphins tote bag is clearly the way to go….hands down.
I totally understand the need for higher security, and applaud their efforts. Who doesn't want to be safe in a large crowd? But in my opinion, it is a tad inconvenient for parents with small children. Not that I would take mine to all the home games, but this discourages me from wanting to go to more than one game with them now. Plus if you're not a STH, who wants to pay $12 bucks for a clear bag?
What do you think of this new policy? No big deal, or pain in the rear?!