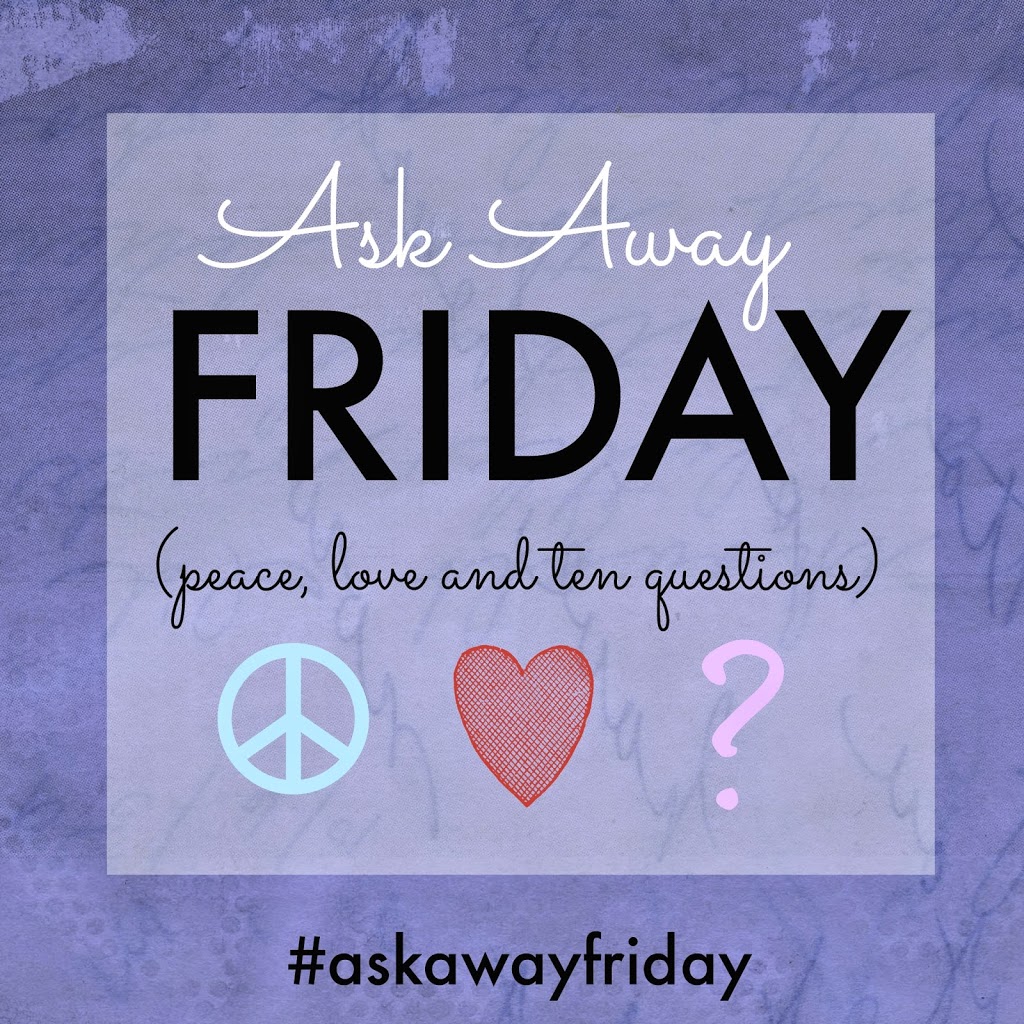 Another first for me here in bloglandia, it's 
Ask Away Friday
. Though I've been blogging for 18 long months now, I'm still pretty new to this realm and just starting to make some new bloggy friends. I take great comfort in knowing that Tamara from
Tamara's Camera Blog
 allowed me to partake, and is the person asking the questions. She's an amazing photographer and beautiful writer whose words and pictures both inspire and move me. She is so open and gives you such an interesting window and perspective into her life. So here are her questions for me, with my answers below. And here are my
questions for the lovely Tamara.  
Do you have any plans to travel this summer?
Next week actually, we are travelling back to my homeland, aka my birthplace of Minnesota for a few days. We have some family there at a lake house, (where else would you go in the Land of 10,000 lakes?) and of course we will spend some time at the Mall of America. Afterwards we are heading to the UP of Michigan for my husband's family reunion over the 4
th
of July.  We shy away from beaches in the summer and usually head north to try to find cooler temps. I love the outdoors, mountains, hiking, just anything different than the 
flat-lands
 of Florida. I seem to feel God in nature…and crave a change in landscape desperately every summer. There's something invigorating about the smell of evergreen trees, and I love the feeling of the Kentucky bluegrass that tickles my toes!
2.
I ask this a lot but I really like it for you: What profession would you most like to try for a day? And what profession would you most hate to try? 
I would like to be a baker for a day, or shadow one of those really cool cake decorators you see on TV! I love to bake and create delicious treats for my family.
And 

don't

 ever ask me to be an accountant. I am no bean counter – I could never balance a checkbook. Good thing I married an Economics major. I would be broke without Bob! (Sounds like the title of a finance book…"Broke Without Bob".)
3.
What's something you've always wanted to do but have yet to accomplish?
Write a book about my fertility journey. I started it, but rarely have time to even think about it. It took us seven long years, several surgeries, acupuncture, IUI's, IVF, and a lot of prayers and healings to become parents. The process changed who I am and what I want our life to be.  Someday I'll be brave and write about my most recent surgery that took away the ability to carry any more children.
Emylia 20 weeks.
4. You have a beautiful family! How did you meet your husband? How did he win you over?
Thank you! Bob and I met in a TV truck. Seriously, a production trailer in back of the old Miami Arena. I was a budding Associate Producer for the Orlando Magic who came to shadow the Miami HEAT's producer for a game. Bob was the graphics guy, total smart ass, very cute with sweet blue eyes, and had a comeback for everything. We chatted so much the producer had to separate us. It was like 1st grade all over again! We emailed back and forth for a few months (we lived 280 miles apart), and I saved every email. That's how he won me…with his quips and messages. I even printed them and have them in a scrapbook. Eventually we spent a weekend together in Key West, it was there on our 2nd date  I knew then I would marry him.
5. Have you brought your daughters to Disney or other theme parks yet? I know you used to work in Orlando before kids. Do you enjoy the theme park life? (My aunt lives there and I should think they often avoid it! Unless we visit)
We took Lila when she was 2, but she was too little. And so was the Magic Kingdom! I remember it being so much bigger when I was a kid. We will probably wait until after the tourist season and try in September. It's just too hot and crowded, and I am so not good with waiting in lines! But I did cry the first time I took Lila. I couldn't believe I was a mom and sharing this with my daughter. Seems so surreal still to think I had not one, but two miracle babies.
Arriving at Disney World as as a mom for the first time with Lila. Crying happy tears behind the shades.
6. What are your tips for new bloggers? What do you consider to be an absolute no no in social media?
Though I've been blogging for a year and a half  I still feel like a total newbie. I only started getting serious and really marketing back in November. But the biggest lesson I've learned is stay authentic to you. Don't try to fit in a box of a typical blog. Be you, be organic, and that is what the readers will be drawn to. As for social media…don't ask me! If it's not a tweet about basketball then I have no clue how to drive traffic!
7. What's your favorite part about living in your town?
I'd say the amazing restaurants in South Florida.  When we want a date night, boy do we get world class de-lish food! I'm stuck on Italian these days too, Scarpetta's or MC Kitchen and I'm a happy mama!  And it's also pretty awesome having four pro sports teams plus great college athletics in MIA. My daughters love all the mascots…they define the teams by Burnie, Billy the Marlin, or "big kitty cat" aka Stanley C. Panther.
  8. Which fairy tale character do you most associate with?
My husband says Cinderella because all I do is clean! You stumped me.
9. What's been your most embarrassing moment, so far, as a mom?
The day I forgot a breast shield in Jupiter, FL at a Spring Training shoot 2 ½ hours away from home. A pitcher had to help me put it back together after I dropped my Medela on the ground  and the  batteries spilled everywhere. And then once I found the part I needed at a local baby store, the manager of the team walked in on me double pumping. Hello! That breast pump malfunction was the inspiration for my blog.
10. What is your most viewed post ever, and why do you think it was so popular?
I am shocked that it's my Frozen Birthday Party Ideas. Wow, nearly 11,000 views. Anna and Elsa are a good draw huh? Or maybe it's my cheap yet chic party planning ideas.
Thanks for the fun questions Tamara, I survived and enjoyed my first Ask Away Friday! I'm usually the one asking questions, so it was interesting to be on the receiving end for a change. Here are some of the awesome bloggers who are hosting this week…check them out. And have a fabulous Friday!
Mrs. Tee Love Life Laughter
This Momma's Ramblings
Uplifting Families
Bold, Fit Mom
If you would be so kind as to click below, it gives me a vote and allows other people to find this blog. You can click once a day & thanks for your continued support!