Football is back…and for sports fans, NFL Sunday's are the best day of the week. There's nothing better than the promise of the new season, coupled with cookouts, beer, and bonding. Football fans are generally the most loyal and fierce in all of sports, and Dolfans are no different. The city has always loved and supported their Dolphins franchise, despite the fact that they haven't won a playoff game since 2000.
Unfortunately, South Floridians are still reliving the glory days of the perfect season, and of course the rich history of the beloved Dan Marino. Dolfans are hoping Marino, who is now working for the team, will help to inspire and propel the Fins back into the postseason.
Back on July 29th during training camp, the Miami Dolphins unveiled their "Credo" shirt…something created by the players and coaches to create unity in the wake of their tarnished reputation. Poor late season play and bullying mired last year, and they are trying to inspire with this message.
Fans are hopeful, but they are not holding their breath. And neither is Marc Hochman of the Marc Hochman Show with Zac Krantz on 560 WQAM. He and his graphic designer Adam Smoot have started a t-shirt business, and hilariously re-created the Fins "Credo" shirt from a Dolfans perspective. But why would or should anyone buy this shirt at honkedofflikeagoose.com?
Because truer words have never been written about being a fan of the Miami Dolphins" – Marc Hochman
Apparently some fans agree, because Hoch has sold over 300 of these Miami Dolphins Fan Credo shirts. "The day the Dolphins put out a credo, we came up with this spoof. Players wrote the shirt themselves, and it felt weird because they haven't won anything in a decade."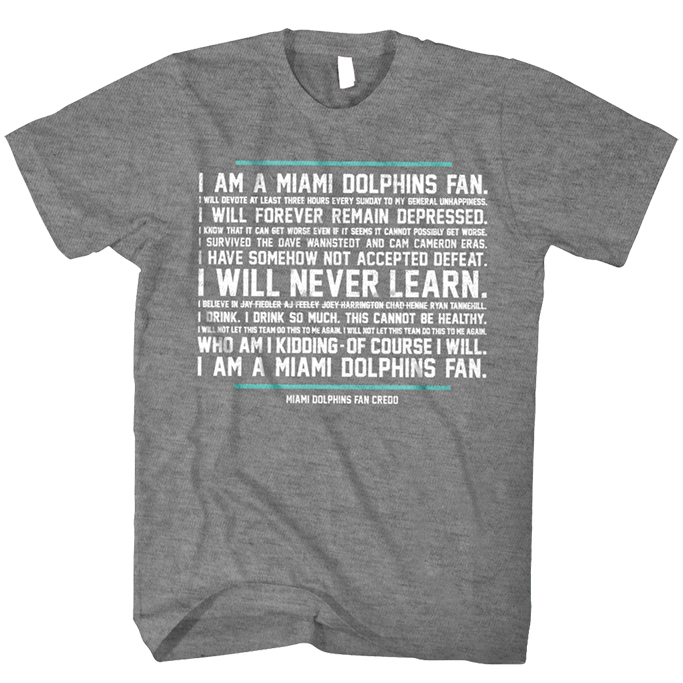 Are you a die hard Dolfan? Do you agree with this sentiment? If you do then lucky for you, because Marc Hochman is giving away one men's and one ladies Dolphins Fan Credo shirt! Two winners will be chosen randomly, enter below and good luck! (And make sure to leave a way to reach you via email if you are chosen!)
Are you ready for some football?