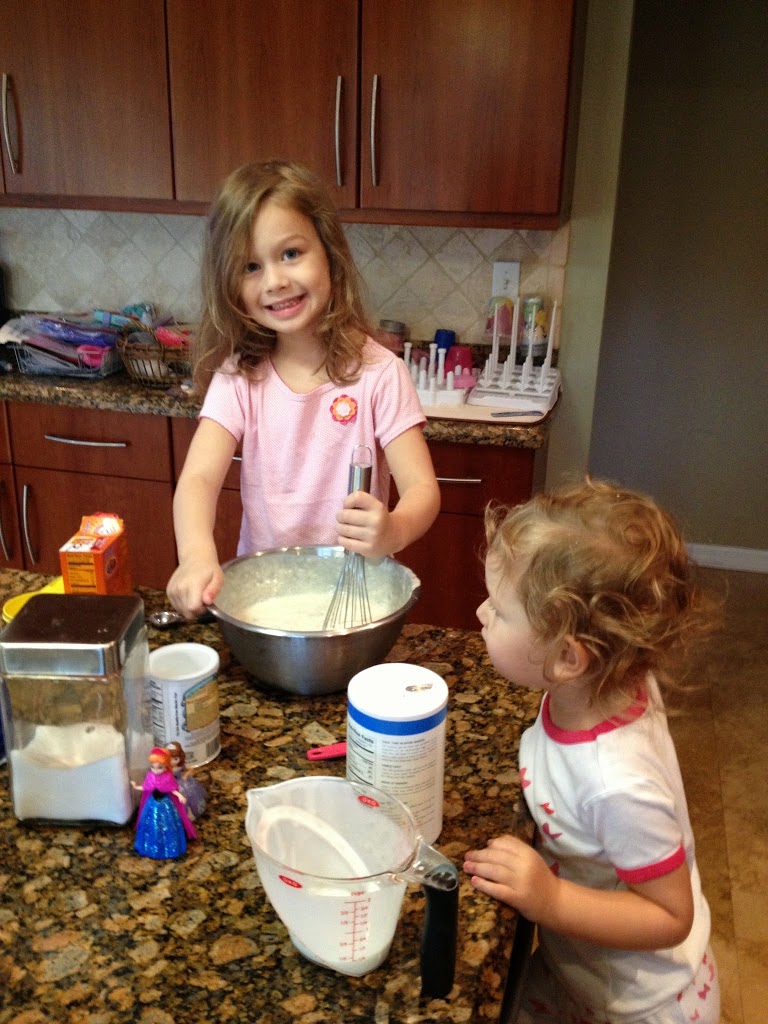 New Saturday morning tradition, homemade pancakes.
Thank you to all who read, commented, and left such great advice on my recent post, The CNE (chicken nugget experiment)! I am so thankful to everyone that took the time to impart your parenting wisdom, and loved the tricks from some of the veteran moms. I thought I would give you a quick update, just in case you were thinking of starting your own nugget ban.
The first week of banishing chicken nuggets from the house wasn't easy. Maybe even harder on us than our kids…especially with all the extra cooking and meal planning. But week 2 was a bit easier, and we were even getting more feedback from Lila on what she would like to try. Ironically, I received the funniest text message from our nanny exactly 14 days after we started the CNE, it read:
"Since you were working late I made the girls nuggets tonight. Lila said 'ewww, these are gross. I want grown up chicken'. lol."
Success! I was elated when I read that text. You see, I didn't intend to banish nuggets forever, I just wanted to open my kids up to trying new meals, and getting less processed and more nutrient-dense food into those little tummies.
This past week I worked a lot and didn't get to try too many new dinners. However I roasted veggies several nights, and my two year old now eats zucchini (raw or roasted), squash, and corn on the cob. Oh and soups…she loves soups! I'm still perplexed though as to why neither of my girls will even try mashed potatoes. I always receive a chorus of "eeeeeeeeewwwww" and "ick!" when I serve them. Thank goodness for sweet potatoes!
Lila is trying new foods without much prodding now, and will usually take more than one bite, but she isn't getting as full. I'm supplementing her meals with fruits and veggies that she does like, especially if she tries a new protein. And she loves to help me prepare the food, they both are learning cooking is fun.
We have completed 3 weeks now, with just one night of nuggets. If you think your child can't live without them…I'm proof that you can do this! Join me! If you'd like me to post some of the meals we've made let me know.
This week, we're making stir fry…with broccoli. This is going to get interesting….